12.01.2022
Great news: This year a new photobook of me will be published by VOID. More information coming soon!!
01.01.2022
I will participate in a group exhibition about the night at the CCHA this year. More information coming months!
15.07.2021 > 25.07.21, Gent, Belgium.
27.03.2021 > 22.08.21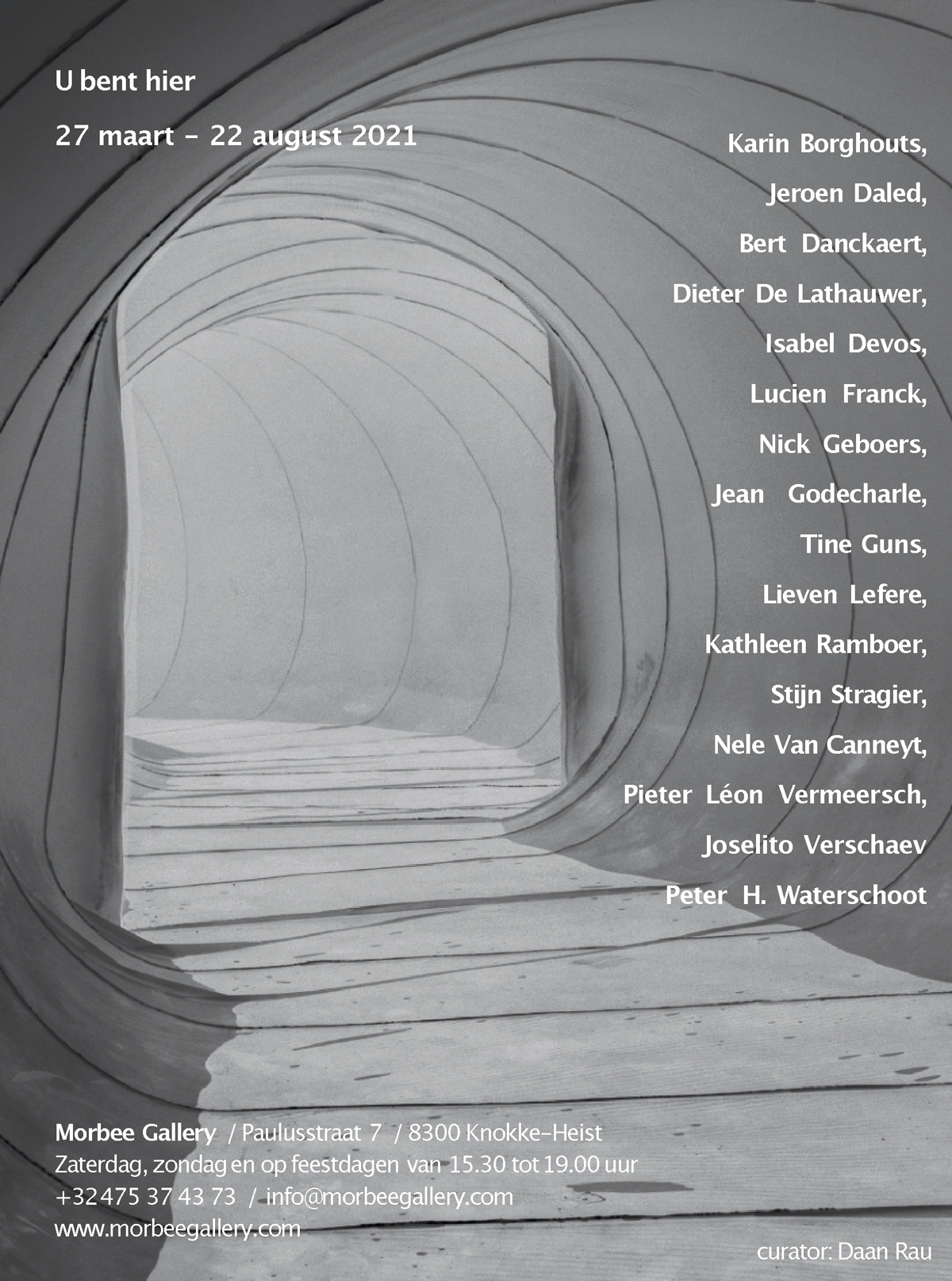 2019
I Loved My Wife is included in the permanent collection of Museum Dr. Guislain.
13.03.2019
I Loved My Wife is shortlisted for the Photobook Award of Foto Wien, Austria.
From 01.03.2019 to 06.10.2019 at the Museum of Photography in Antwerp (www.fomu.be) the first overview of the history of the Belgian Photobook is on show. This comes with a massive catalogue, in which my book I loved my wife is selected and referenced.

31.01.2019
The book I Loved my wife, will be part of the catalogue on the Belgian photobook and the exhibition "photobook belge" at the FoMu Museum of Photography later this year.
01.02.2019
A fresh layer of photopaint for this website! Enjoy and share on social media!
My series and book I loved my wife is one of the 10 finalists of the Grand Prix Photofestiwal 2018 Lodz, in Poland.


Exhibition in Montpellier, France
My series and book I loved my wife is one of the finalists of the Boutographies Fotofestival in Montpellier, France. What a great collaboration, experience and team!


Deutsche Börse Photography Foundation Prize
Earlier this year I received an amazing email - my book I loved my wife was on the longlist for the Deutsche Börse Photography Foundation Prize. It didn't make it to the final four, but still chuffed with this honour!
Magnum photographer picks I loved my wife
Oh my gosh ... Mark Power, member of the renown Magnum Photos and one of the few photographers i look up to, has included my book I Loved my wife in his best of 2017 !!
Every year there is a bunch of lists where collectors, photobook stores and photographers pick their best photobooks of the year.
This year my book ends up in 7 lists!
Among them two of the biggest collectors in Europe.
Best photobook of 2017 according to Mark Power (Magnum) , Tamara Berghmans (Museum of Photography Antwerp), Robin Thitchener (collector), Gabriela Cendoya (collector), Viory Schellekens (collector), Olmo Gonzalez Moriana (organisator Fiebre festival) and Tono Arias (bookshop).
Arles photobook 2017 award
2017.06.27
My 'I loved my wife' is selected for the shortlist of the Photobook 2017 Award, organized by the Arles photography festival.
2017.06.15
I participate in the group exhibition "Museum of the Photography of Brussels" organized by Recyclart. Opening 29th of june, 2017.
Edit: this moving exhibition had to be renamed into Fusée de la Photographie.
2017.04.06
My book was nominated by experts as one of the best photobooks 2016/2017.
"Since 2008, for the annual Kassel Best Photobook selections, eminent experts have been invited to nominate one book which they personally consider to be the best, most beautiful and most interesting of the last year (...)"
> click here for the full list
Exhibition / installation
2017.03.01
The exhibition is up and running and is a big success: more than 3.000 visitors.
On show until 2nd of april, Botanique, Brussels, Belgium.
2017.02.28
The book I loved my wife is now available via the publishing house Lecturis and some (signed) copies via myself.
Exhibition / installation
2017.02.02
There is now a facebookevent for the vernissage and booklaunch:
link
.
2016.12.01
I am invited to give a talk at the Recyclart Extra Fort evening, together with Megan Doherty. See you all at Recyclart, Brussels.
2016.10.29
Publication of a six page article in this months edition of Openbaar Kunstbezit Vlaanderen.
Winner photobook award Unseen Amsterdam, Netherlands
2016.09.23
The winner of the 2016 Unseen Dummy Award is Dieter de Lathauwer with his entry I Loved My Wife (killing children is good for the economy). De Lathauwer writes that his book "highlights one of the darkest sides oft he previous century in Europe, which was and still remained under-exposed." The judges thought that the combination of found photographs, stills from propaganda films from the German authorities, and his own evocative images made for a powerful and unsettling narrative.
... His photographs of the locations merge with the found material to create a sustained mood that suggests the horror without depicting directly. It is an accomplished photo book about a very dark subject matter that, to this day, remains relatively unknown."
a href="http://bit.ly/2cp9q5x" target="_blank "Click here for more info on the website of Unseen Amsterdam/a
Selected as upcoming talent by Museum of photogrpahy Antwerp
2016.09.15
I am very happy to be part of this years b.TIFF selection: 10 promising photographers in Belgium/b brought together in a yearl publication of the Museum of Photography Antwerp, now in its 5th edition. Woop woop! I am in company of really good names: Tomas Bachot, Philippe Braquenier, Wiktor Dabkowski, Ode de Kort, Colin Delfosse, Miles Fischler, Matthieu Litt, Camille Picquot,Diane Tamane.
a href="http://www.fotomuseum.be/en/-tiff-magazine.html" target="_blank "Click here for more info on the website of the museum of photography/a
Artitst talk fotofestival Liege, Belgium
2016.09
I will give an artist talk at the Liège Photobook Festival. 8th of october 2016.
2016.08
I participate in a bgroup exhibition at the Museum of Contemporary Art in Kanazawa, Japan/b. "In 2016 Japan and Belgium celebrate 150 years of cultural and diplomatic relations. The city of Kanazawa, sister city of Ghent, wants to bring together leading artists from Ghent and Japan in an exhibition in the 21st Century Museum of Contemporary Art in Kanazawa. Due to budget restraints, the selection is limited to 2D work. From the long list of artists proposed by us to our colleagues in Japan, your work was selected for participation in the exhibition together with 15 others.
It is not the goal of this exhibition to show only top end artists; rather a sample of what Ghent has to offer within the visual arts." Other selected artists: Steven Baelen, Thomas Bogaert, Atelier Elke Andreas Boon, Céline Butaye, Marie Cloquet, Mario de brabandere, Johan De Wilde, Isa D'hondt, Marnix Everaert, Tatjana Gerhard, Cindy Morlion,Meggy Rustamova, Ante Timmermans, Servi van Grinsven, Colin Waeghe.
Yasuyoshi Botan, Yoko Enoki, Gin Hasewaga, Chisato Ishiyama, Yoshio Kamitani, Satoshi Kikuya, Takahiro Kudo, 眞壁 陸二 Makabe Rikuji, Shichio Minato, Saori Miyake, Jin Ote, Hiraki Sawa, Kazumi Skimode, Atsuki Takamoto, Masami YAMAMOTO, Yamamoto Motoi.
2016.08.31
"We are happy to let you know that your book was shortlisted for the Unseen Dummy Award 2016/b, Amsterdam."
After Kassel, Riga and Barcelona, now Unseen in Amsterdam…oh my gosh! My next hope: a collaboration with the publishing house or designer I have in mind for this book! I so much want to make this happen ....
a href="https://www.unseenamsterdam.com/dummy-award-2016-shortlist-announced" target="_blank "Click here for the shortlist at the Unseen website/a
Barcelona photobook Award - honourable mention
2016.05.26
My dummy book is rewarded with a honourable bmention of the jury (top 3) at the DOCfield Dummy Award 2016, Barcelona, Spain.
Kassel Photobook Award - shortlist
2016.05.23
My dummy book is on the shortlist of the Dummy Award Kassel 2016 of the Fotobookfestival Kassel. Jury: Eva Gravayat (Curator, Berlin), Klara Källström & Thobias Fäldt (B-B-B-Books, Stockholm), Jeffrey Ladd (Blog 5B4, Errata editions, Köln), Frederic lezmi (The PhotoBook Museum.. Köln), Markus Schaden (The PhotoBook Museum.. Köln), Richard Reisen (Verlag Kettler, Bönen), Dieter Neubert (Fotobookfestival, Kassel).
Book award Riga - finalist
2016.05.17
My new dummy book got rewarded with theb top 10 best books at the Riga Dummy Photobook/b. Contest 2016. Jury: Erik Kessels, Hester Keijser, Vincent Marcilhasi and Tom Mrazauskas.
Dummy award Riga - shortlist
2016.05.13
My new dummy book made it to the shortlist of the Riga Dummy Photobook Contest 2016. Jury: Erik Kessels, Hester Keijser, Vincent Marcilhasi and Tom Mrazauskas.
New website on photography
2016.03.24
Sometimes it is time for something completely different. So here it is: a glimpse of my new photographic research project "swimming taco salad".
Feeling a bit naked though: the new curator on Democratic Jungle, wrote an article about it even though my project is still under development.
A small selection of works is included in the article, and I am continuing with reflecting about possible installations, writing texts and finding people to talk about it.
It started in 2014 combining a growing interest in digital media and abstraction.
a href="https://democraticjungle.be/2016/03/24/het-fotovlies-trilt/" target="_blank">> LINK to the article in dutch with some images
Book publication with works of me
2015.11.09
The book 'De Adelaar van Benidorm' finally got published after some delay: it is a book full of contributions from different writers and artists regarding nicknames in the sports world. I contributed with a set of b&w images entitled "BAIT".
>>LINK
Group show at photo london
2015.05.20
I am participating in a group show during Photo London. Place to be :Sommerset house, London, UK. From 20/5 to 24/5/2015.
Group exhibition announcement
2015.05.06
I will show a projection with soundscape of my new series BAIT at the group show "Conversation Rooms". Place to be: the caves of the Zebra, Ghent, Belgium. From 13/5 to 17/5/2015.
2015.03.17
I am a finalist of the international Lens Culture 2014 Exposure Award.
2015.03.16
The book "De Adelaar van Benidorm" on nicknames in the sportsworld contains a contribution of myself from a new project and will be published coming weeks. Looking forward to it!
Click here for more info
.
2015.02.15 new website online
For older news, tryouts, book reviews, etc:
check my blog
.